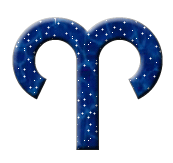 Aries Moon
The firey Ram meets its square of Cancer, resulting in a lunar double edged sword: Your intuition allows you to read into the actions of others, yet you are prone to missing what is between the lines.
Regardless of your Sun sign, Aries Moon will impassion you with a strong personality. You see things as they are, and you live in the moment, always ready to achieve what you want. But sometimes, you can come across as too strong; others will negatively misjudge your actions. You have an intense spirit, readied for aggression, with a spontaneous temper. You are courageous, but foolhardy.
This is a direct Fire Moon, and one that is not devious or undermining in motive. You are aware that you must deal with your feelings so that you may act. As a Cardinal placement, there is the indication that you maintain charge and leadership within your groups of family or friends. It is believed that you would attract a dominating person as a partner.